---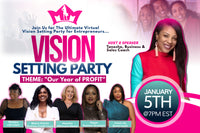 2023 Vision Setting Party🥳
The Ultimate Virtual Vision Setting Party for Entrepreneurs!
January 5th, 2023 at 7pm EST
Where we'll be DEFINING our Goals, MAPPING out our Route to SUCCESS, & Setting DEADLINES that Stick...
This Vision Setting Party is for you if:
You're ready to PLAN your most

PROFITABLE

year yet.
You're ready to use social media to SELL your products or service, but you're unsure of where to start.
You started and stopped your business more times than you can count and you're finally READY TO BECOME CONSISTENT.
You're ready to go from hustler to six-figure brand owner.
You're ready to learn from SIX & SEVEN FIGURE EARNERS who are ready to share the game to help pivot you into action.
Here's what you'll get:
Visionary tools to help guide you to your most PROFITABLE YEAR!
Strategies to build  $ix-Figures in Business Credit.
Strategies to PROTECT & TRADEMARK your business.
Tools to BRAND your growing business.
CONTENT Strategies to help you create 30 Days of CONSISTENT CONTENT!
BONUS: TOOLS TO HELP CREATE A VISION THAT LEADS TO MORE SALES! 
BONUS: ACCESS TO MY LIST OF RESOURCES, SYSTEMS, AND WEBSITES TO HELP GROW YOUR BUSINESS.
Here's the Details:
Date: January 5th, 2023 at 7pm EST
2-Hour Session Hosted via Zoom
Replays available to registered participants (Access to (re)watch at your own pace.)
Featured Presenters:
Coach T: Tanesha, the Mogul_Maker, has helped thousands of entrepreneurs collectively begin to generate millions in profit using social media alone.
Bianca Victoria: Bianca is a Business Credit Coach who has helped entrepreneurs obtain over a million dollars in business credit collectively.
Coach Joy: Joycelyn is a Brand Strategy Coach that has created designs for large corporate brands and has helped her students to increase their profits.
Megan Aderele: Megan is a Business Strategist who has helped clients land high-ticket corporate contracts that generate six and seven figures annually.
Monique Janean: Monique is a Life Coach and Vision Strategist who has led students to gaining clarity that turns into profit.
Bonus Guest: Serial Millionaire, MaryAnn Ciambriello made her first $Million after 50. She currently has 5 income streams generating more than $1Million in profit and will be hosting a "Pick My Brain" session... What questions do you have for a Millionaire?