---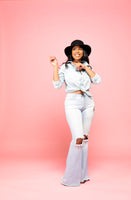 Profitable Content Creation & ChatGPT Strategies
I WANT TO HELP YOU CONSISTENTLY, CONFIDENTLY & PROFITABLY SHOW UP ON SOCIAL MEDIA...
LIVE MASTERCLASS: SEPTEMBER 19TH at 7pm EST.
Where: Live Zoom Masterclass
Duration: 60 Minute Lecture & 30 Min Group Q &A
Replays available for registered participants
This Masterclass was created for you if:
You've been creating content but not getting any sales or engagement.
You don't know what to write in your captions.
You've ever considered investing thousands of dollars into a social media manager.

Posting to social media is your ONLY marketing strategy.

You spend all of your time creating content instead of running your business.

You don't know what to post or when to post.

You don't understand how social media really works so you just don't use it.

You're struggling to make sales on social media but know that your product is dope.

You just dont have the time to come up with valuable posts so you just post anything.
HERE'S WHAT YOU'LL GET: 
***This live Masterclass will provide everything you need know to begin creating content that converts... 
***Discover how to use ChatGPT to create CONSISTENT Content & Digital Products
NEW 30 Day Content Calendar (Know what to post and when)
50+ Viral Quotes & Affirmations 
5+ Sales Posts Templates (Eliminate the fear of asking for the sale... Access my most profitable sales posts)
Bonus: 10+ Reels Ideas & Captions
Bonus: Hashtags 101 
Bonus: 10+ Call-to-Actions that will increase engagement and sales.
Bonus: 10+ Instagram Live Topics to help your brand standout